"

We have worked with Karen for many years while searching and purchasing real estate. We have found her to be a true partner and consummate professional. Karen recommends the best options based on our personal needs. She is very experienced, thorough, patient, and prompt, remaining "on call" for us. Karen is meticulous in her research and follow-up - she attends to every question and detail and we are always assured of a quick response. Karen goes above and beyond to ensure smooth and uncomplicated transactions. We are delighted and fortunate to have Karen as our real estate teammate.
Many, many thanks!" Lou and Denise
"Karen Neve is the definition of a consummate professional, who, by the end of your real estate process, will feel more like a family member than a broker. She is truly invested in your journey, and works her absolute hardest to find your dream residence or help sell your beloved home. Always prompt and accessible, Karen approaches each client interaction with the utmost warmth, positivity, knowledge and experience. She gave detailed counsel on the pros and cons of each of our prospective homes, so we were fully prepared when it came time to present an offer. We have encountered a number of agents during our buying/selling interactions and never before have we met someone as knowledgeable or adept at their profession as Karen. She is truly an asset to anyone's real estate experience." - Kellie Nault

"We wouldn't even consider buying or selling a house without Karen. She has done both for us on several occasions. She is thorough, patient and knowledgeable. We felt that we had access to all of the best information. She even has the best vendors to handle additional details. Her comps were on target and current. A lot goes into buying and selling homes and someone who does so without the best realtor can find themselves with trouble and regrets. Karen sees the big picture and the little pictures and leaves no stone unturned." Holly and Dick Vose

"The best part of working together to find the perfect spot for us to call home, was the wonderful friendship we built along the way. You listen to your client's needs and work so incredibly hard to make sure those needs are met. You add such a warm and personal touch to all those you work with and the dedication you have to your job and profession does not go unnoticed. Not every client is easy to work with or has taste the same as you, but their needs become your own and ultimately you find them the home of their dreams. Not only did you sell me on my home, but, you sold me on the community in which I chose to live and made me feel very comfortable with the area. On top of all that, finding a home is a very personal experience and because you are so wonderful with people, a friendship and trust is built along the way that brings back the client again and again….Thanks so much so leading us to Winding Oaks, lots of great memories have been made here." Julie & Brian Marley

"We have experienced Karen Neve as a very knowledgeable, professional, and goal directed realtor. Her follow through, recommendations, and feedback are exceptional. Ms. Neve receives, and earned, our unequivocal highest recommendation." Herbert P. Golub, Ph.D. Carol M. Golub, Ph.D.

"Karen Neve is an expert in the local real estate market in the tri-town school area. Karen is professional, responsive and extremely patient and helpful, never pushing a sale. She is great to work with. We thoroughly enjoyed working with Karen to purchase our home." Gina and Charlie Begley

"As a real estate developer and homeowner, we have been working with Karen Neve for many years for our personal and business sales. She is professional, courteous, and pays attention to detail. She has helped us price our real estate correctly and reacts to changing market dynamics. She advertises well and runs many open houses for both the local agents and buyers. She's timely, efficient and appropriate in her dealings with others. She guides us as well as our buyers through each process until the closing date. She is client focused and has her client's best interest in mind. Her knowledge and expertise in the real estate market and new construction along with superb negotiation skills has always left a very positive impression with us as well as our customers. We would highly recommend Karen to other sellers, buyers and real estate developers." Bob and Marylee Messina, Messina Development Company, Inc.
Testimonials for Karen
---
Testimonials for Linda:
Professionally marketing a home in today's competitive environment cannot be done in a "hit or miss" fashion with a sporadic approach. Sellers need a plan along with an agent who understands today's buyers.

As your neighborhood professional REALTOR®, I take great pride in knowing and constantly monitoring our local market. Just look at what some of your neighbors have said about me: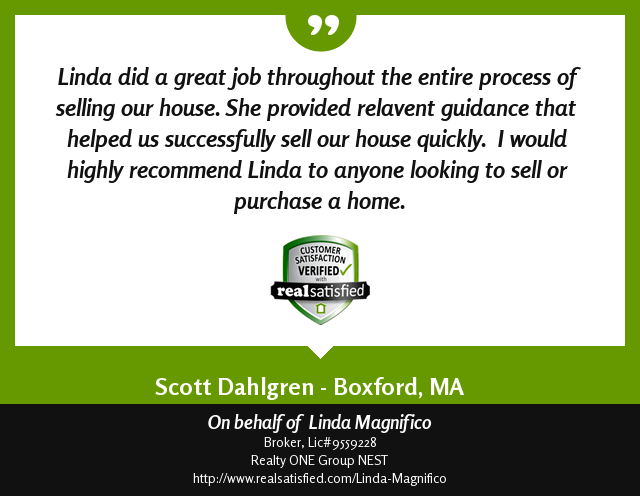 "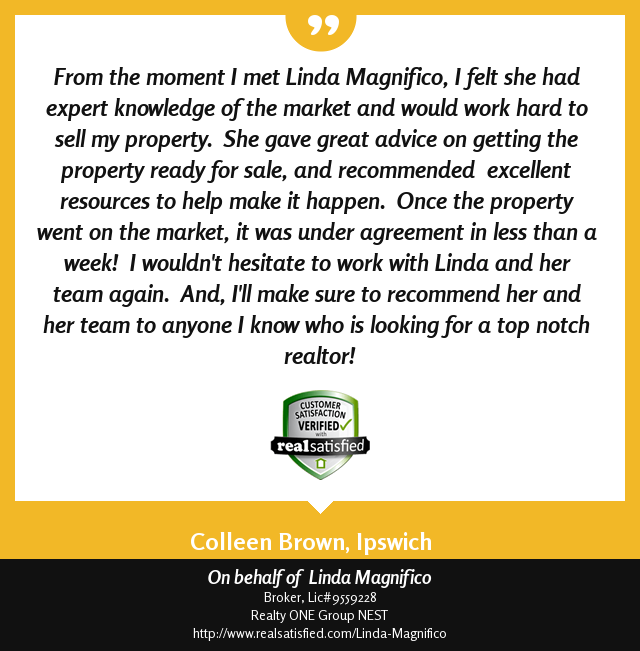 "Linda walked me through a fairly complicated house sale and was great through the whole process. She has remarkable patience and understood that I really had no clue what was going to happen. Then, when the house sold in 4 days, she helped get everything - and me - organized so it went smoothly. I can't say enough good things about her!" Bobbi, Danvers

"Selling a family home you've lived in for 35 years and moving into a condo is a big transition. Linda helped me every step along the way. We started with de-cluttering, staging, pricing and negotiation. Getting it sold is just a small piece of everything Linda did for me. She uses her prior experience of selling houses in this region to anticipate the next hurdle. She gently pushed me along the way, providing me with contacts when I had no one to turn to. She sold my house and helped me find the condo that was right for me. She's a true professional, goes above and beyond and makes you feel like you're her only client. I highly recommend Linda whether you're selling or buying a home." Diane, Boxford

"We wanted to thank Linda for her continuous support during the sale of our Boxford home. We are building a new home and have been working with several real estate agents, attorneys, builders, and suppliers. Of all the individuals we have dealt with Linda is #1. Her knowledge of the market, the process, and most importantly your communications and support through what could have been a very stressful period exceeded our expectations. Thank you! She will be our #1 choice in any future real estate transactions." Don & Donna, Boxford

"Working with Linda made a stressful time as painless and effortless as possible. She was very patient explaining the process and ready with a quick response whenever we had a question. She is very knowledgeable of the market and we would highly recommend her to anyone considering buying or selling their home." Jason & Dani, Rowley

"After interviewing three real estate agents/teams, my husband and I decided Linda and Karen should sell our home in Topsfield, and in less than one week, they did. We immediately connected with them and felt very confident they would obtain a fair market value price for our home; they actually sold our home at more than asking price. Both Linda and Karen are affable, friendly, intelligent women who easily connect with people and are experienced professionals. I would and have recommended them to others." Tom and Patty, Topsfield

"We had the pleasure of working with Linda in selling our home. While selling a home is not always an easy process, Linda made it as painless as possible. We had every confidence in her expertise and experience every step of the way. We would not hesitate in having her represent us in any real estate endeavor." Kevin and Ellen, Boxford

"Linda Magnifico is a rock star! From our first meeting to closing, Linda's enthusiasm, highly effective communication style, and expert advice for listing our home was evident. She was truly there for us every step of the way. Linda's guidance on staging, photography, and meticulous presentation really showcased our property. Linda has extensive knowledge of the local market and provided us with an analysis that was simply incredible in the detail included. Linda was always responsive to requests for assistance or to answer questions. She demonstrated an amazing ability to work with buyers from initial offer to closing. Linda managed every step, keeping us well informed along the way so everything flowed smoothly to the end. We continuously had the highest level of confidence and trust in Linda Magnifico as our realtor. Thank you Linda, we deeply appreciated your positive attitude, limitless energy and professional integrity. It was a pleasure to work with you!" Jean and Dave, Boxford

"No one will work harder than Linda Magnifico to sell your home. She is extremely professional, detailed, responsive, knowledgeable, and organized in her approach. Linda will do the work, the research, the staging, the photos, the mailings, the marketing, the open houses, the scheduled showings, the follow up/follow through to get the job done right. Linda is also a pleasure to work with!" Tim & Kelly, Boxford

"My experience with Linda was too great to be expressed with words online, but she went out of her way to help me with the sale of my condo. She told me exactly what I needed to do to get my condo in shape to be sold, and handled everything from start to finish in a professional manner. Everything went smoothly. I would highly recommend her for buying or selling and will be consulting her when I buy my next place." Tim, Waltham

"Linda was wonderful from start to finish: professional, personable, knowledgeable, and a great communicator. Always willing to go above and beyond, she worked to sell our home as if it were her own. She was extremely easy to work with, knowing exactly when we needed her to take the lead or to hold back. We feel lucky to have had her in our corner." Denise & Marc, Boxford

"We had a great experience working with Linda. She provided helpful advice during each step of the home buying process and always had our best interests in mind. Linda went out of her way to ensure we were happy with our purchase and gave us useful tips about our new town as we prepared to move. We would strongly recommend working with Linda for your next real estate venture." Chad & Melissa, Boxford

"We are thrilled to have had Linda Magnifico as our realtor and we would recommend her with highest regard. Linda's professionalism, effectiveness, and positive attitude made her a pleasure to work with. She was always reachable by phone, email or text, and operated with sharp focus and a "get it done" mindset. Our house sold in 45 days once we switched to Linda, after it had been on the market unsuccessfully for 9 months with another agency/realtor. We believe it was not just luck and timing that a buyer came along. It was Linda's realistic pricing of our property, meticulous presentation of the home online and in print, and her ample competence that ultimately lead to the sale of our house. Linda handled every detail, keeping us informed and updated along the way so that nothing was an unexpected surprise. Thank you Linda for your tireless energy and efficiency, you are the best." Hugh & Sue, Boren Ln., Boxford

"We would like to express our gratitude to Linda for her assistance in selling our home in Topsfield. From the frank discussion regarding pricing to the professional staging and marketing presentation, Linda offered a tremendous service that resulted in our listing and closing the sale of our home within 90 days. We have great respect for her knowledge of the market and her communication and unyielding follow through to get the deal done. We highly recommend her to both buyers and sellers." Chuck & Nancy, Topsfield

"From our very first meeting through closing, Linda brought a level of energy and professionalism that was amazing! Her staging suggestions were extremely helpful, her photographer and marketing materials first rate, and her teamwork approach with open communication all contributed to getting our house sold in only 6 weeks!! We couldn't have been happier." Rich & Maryellen, Boxford

"I loved working with Linda, and I knew we would be a good match. She was knowledgeable about properties and honest in her assessment of my property and its value. She allowed me to feel like "her most valuable customer," even though I knew she was working with many other clients. I never felt alone or overwhelmed by the process because she was with me every step of the way. She was always prepared for our meetings, and her follow up on details was meticulous. I laugh to myself when I think of Linda, because she has an expression she uses all the time, "I get it," and she is right about that, she does "get it" and she gets it right." JoAnn, Boxford

"Linda Magnifico truly lives up to her name and then some! Linda is one of the most efficient and patient RE Agents we have ever worked with. She not only sold us a house she also sold our Condo during the same time! We thought she was wasting her time in doing back to back open houses, it was the 2ND week which we received an offer (at the open house). Linda's ability to follow through on every single detail is so amazing! Her professionalism is outstanding, yet she has the ability to also make you feel like family. Buying and selling a home at the same time is no easy task and can be extremely stressful, Linda was always the calming effect you needed. Linda is a great negotiator. We highly recommend Linda whether you are buying or selling. Her knowledge, attention to detail and strong work ethic go hand in hand with her warm and gracious personality." Tom & Anne, Georgetown

"Linda Magnifico was a top notch agent in every respect. She was spot on when it came to pricing and marketing our property. Not one detail was left unattended and she guided us professionally through the entire process." Jeff & Diane, Boxford

"Linda was an absolute pleasure to work with! She was highly professional while still maintaining a level of empathy for an anxious seller. She gave us sound advice throughout the selling process and was able to make us feel like we were her only client. Linda is an effective communicator and did a wonderful job helping us navigate through the selling process. If you want the very best in a realtor, then Linda is the one to choose." Patti & Al, Middleton

Testimonials for Linda
---